Butera Chiropractic: Pilates
TRI PLANE THEORY AND THERAPY
Our rehabilitation program works in a Pilates based style in a tri plane system. We feel that in utilizing this program we can access core strength rather than peripheral muscles and integrate a stronger and more functional response from the patient.
In Pilates we focus upon pelvic stability and scapula stability. We have had great success with our chiropractic adjustments and rehabilitation using the principles of Pilates Core Strengthening:
Adjustments are received in an easier fashion for the patient
Adjustments remain longer for the patient
Pain is decreased
The patient has a home protocol for pain relief when he is injured
and most of all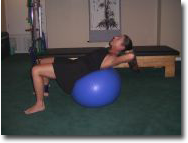 The patient learns why he gets injured and how to prevent the cycle from re-occurring
The following video demonstrates some of the techniques featured in our Pilates rehabilitation:
Shoulder, elbow, wrist, and hand as well as hip, knee, ankle, and foot pain are also addressed using extremity adjusting techniques and Pilates rehabilitation.
We have found that even with this technique we must go one step forward to integrate the upper body with the lower body and this is where our tri-plane theory works so very successfully.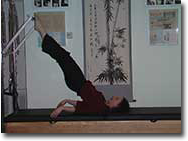 What we have uncovered is that the patient will respond differently while lying on his spine as well as when seated and when standing. Muscles and subluxations will appear differently within these three planes. At each level of care the progress is re-evaluated muscularly, orthopedically, neurologically and at the spinal level.
As we bring the patient to the next level we can measure progress and attend to the ergonomics and activities of daily living of the patient. In this way the patient develops functional fitness and learns to prevent future problems from occurring.
We feel that this program ensures confidence in reaching maximum medical improvement and dramatically reduces the incidence of disability in our patients.
This principle develops a strong core, flexible extremities and better balance in order to improve fluidity of movement and enhance the quality of living.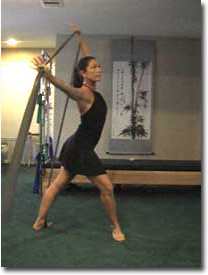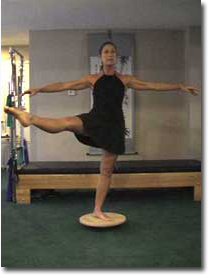 The following video demonstrates some of the advanced techniques featured in our Pilates rehabilitation: